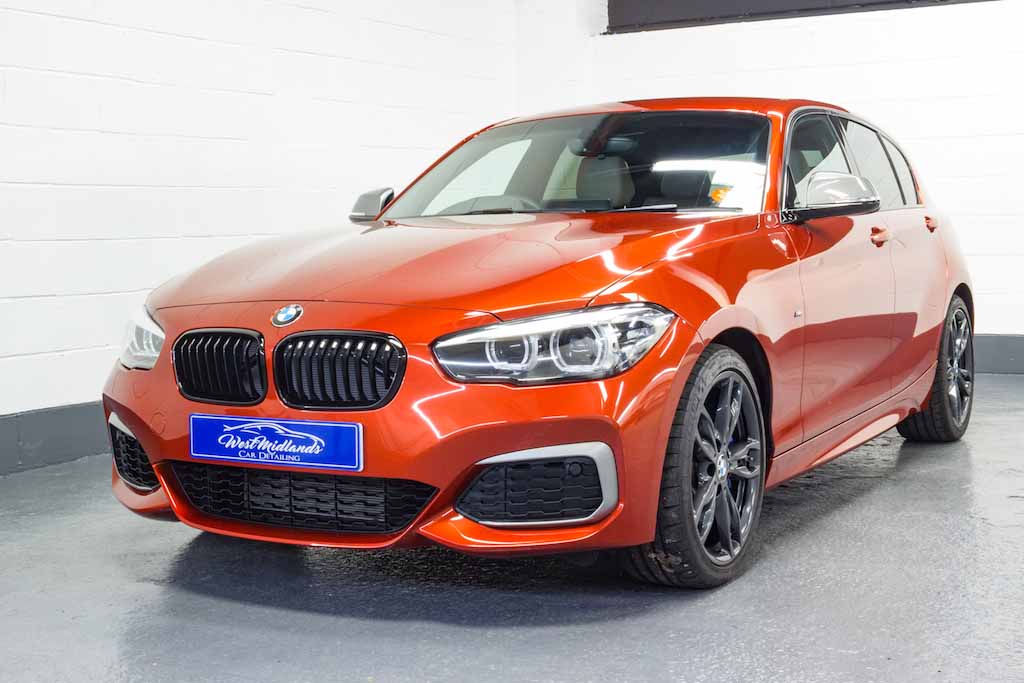 Detailers are problem solvers. Common problems they solve are cars that aren't quite shiny enough for their owners, or cars that reflect swirls and holograms in the sunlight, or cars that are difficult to keep clean. Sometimes though, they asked to fix quite specific issues. For Vincent of West Midlands Car Detailing, today was one of those days. The owner of this Sunset Orange BMW had parked their rather rapid hatchback near a sandy nature reserve on a wet weekend. The rain had left sand deposits all over the once-vivid bodywork and alas it was left untouched for rather too long. This had led to a rather serious case of water-spotting which had somewhat diminished the visual appeal of this 340bhp pocket rocket.
Vincent was called in and assessed the car, surmising that in this particularly severe case, the car was going to need quite a significant level of correction work. In an effort to stop a repeat performance the next time the owner wanted to spend a weekend convening with nature, it was suggested a ceramic coating might be in order. Though ceramic coatings themselves can be susceptible to water-spotting too, they do form a sacrificial layer that protects the paintwork from suffering any further damage.
The client agreed to the planned rectification and so Vince set to work. After the pre-wash, a conventional three-bucket wash was carried out, followed by a very thorough decontamination. First the tar was removed using Insta Finish – an LA-based brand owned by the long-established Warner Chemical Manufacturing. Fallout was next on agenda with CarPro IronX working its magic. Finally, the ValetPRO clay bar was put to good use removing any remaining bonded contaminants. After another safe wash it was finally time to start removing the etched-in watermarks.
For this task the weapons of choice came from Italy, with the Rupes Bigfoot LHR15 Mark 2 doing the majority of the work, then the LHR75 taking on the curves with a 3″ pad, and finally the iBrid Nano taking care of the smaller, more intricate crevices.
You may imagine that water-spotting would be easily removed by machine. In most cases you would be quite correct, but not in this case. In fact, the damage was so extensive that a three stage correction was called for. After trying various different combinations, it was decided to start with Rupes Green medium foam pads paired with Quarz Medium gel compound, followed by the yellow pad and Keramik Gloss compound. With all of the damage rectified, Vince wanted to get the best gloss he could prior to coating, so went to the super soft white pad with the corresponding Diamond ultra fine polish.
Many detailers, including Vince, will use a vast array of different machines, pads, and compounds – often mismatching brands for their desired effect. This leads to an immeasurable number of possible combinations, and regardless of the paint you are confronted with, the chances are there will be configuration that will do the trick. Just to add to the potential complexity, you can also adjust your method – varying the number of passes per set for example – and add in extra elements such as water polishing. That said, Rupes are unique in that they manufacture their own machines, compounds, and pads – and they are developed together to provide what they refer to as a 'system'. We met Vincent at a recent Rupes Advanced Bigfoot Technique Seminar where he was honing his skills under the tutelage of Jason Rose, Global Director of Training for Rupes, who we interviewed later that day for the Car Care Adventures.
Before going any further, Vince brought out his trusty Scangrip LED swirl-spotting equipment and the panel wipe. The latter removes any potential fillers and oils left by the compound, and the former reveals any swirls that may have been hiding under said residues. Once satisfied that the job was done properly, he set to work coating the car with Crystal Serum Light – a relatively hassle-free coating that does rather well when topped with EXO V2.
For good measure, the wheels were protected with Gtechniq C5 and the glass with G1 ClearVision. On day four the car was ready to be handed back to a very happy client – be it with strict instructions to be a little more careful when parking in the same nature reserve. Thanks for reading